Do you want to know how to make your customers extra happy this summer? Then consider offering a ready-made BBQ box with all the necessities for a barbecue: from tasty meat and fresh salads to a disposable barbecue. We are happy to offer you some inspiration about what goodies can go in the box.
Number one: meat
When you think of barbecuing, you think of meat. And of course you as a butcher, caterer or poulterer are also specialized in this.
Make it easy for your customers with, for example, pre-cooked marinated chicken legs, tasty seasoned pork skewers or a hamburger. In addition, you can of course also offer a luxury variant of the BBQ box. For example with spare ribs with a lacquer sauce, pork medallions and marinated lamb chops. Both the Picnic Box Large and the Budget Take Away Box offer enough space for an extensive selection of meat.
There is more
Barbecuing is more than eating meat. Complete your BBQ box with some fresh salads, tasty sauces and baguettes with herb butter. How about a potato salad with fresh chives, a spicy carrot salad with harissa or an old-fashioned Russian salad? And in addition to the classic sauces such as cocktail sauce and barbecue sauce, you can also think of homemade chimichurri or homemade whiskey sauce. This way you offer your customers something familiar, but also something surprising from your own kitchen.
For the thirst
Is there still room left in the box? Yes, for a good bottle of wine. To offer your customers a complete barbecue, you don't just think about the dry food, but also about the drink. In our webshop you will find brasserie glasses to be delivered with the BBQ box. The box itself has handy cup holders for these glasses.
The disposable barbecue
Complete the picnic BBQ experience with a disposable barbecue. Your customers can then get to work with your BBQ box not only in their own garden, but also in the park or on the beach. Romantic, right? Extra handy is that the unfolded Budget Take Away Box can immediately serve as a picnic blanket.
Tip to prevent nuisance: Check where in the vicinity of your butcher shop can and may be barbecued in public. Then you can immediately let your customers know where they can go with the package.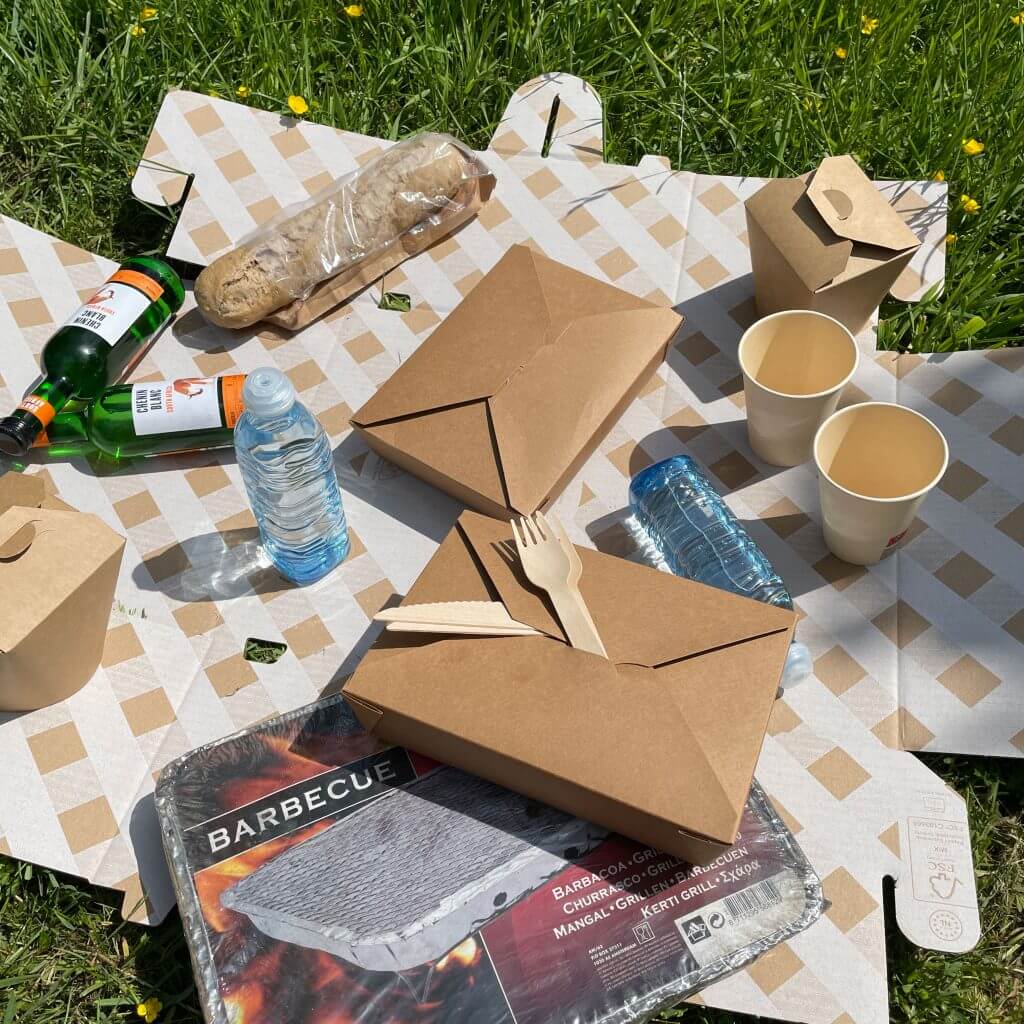 Personalize
The Picnic Box Large and the Budget Take Away Box offer all the conveniences: plenty of space for BBQ utensils, handy cup holders and handle.
But maybe you want to deliver more than a sleek brown or white box? Fortunately, you can easily personalize the boxes with a stamp or sticker. Contact us for the possibilities.