Our take away box is ideal for every catering entrepreneur: from bakery and lunchroom to restaurant or caterer. The take away boxes offer the possibility to pack food easily and are practical to transport. Thanks to the quick lock bottom, your employees can assemble the box in no time. And thanks to the handy handle, your customer can walk out the door with the take away box.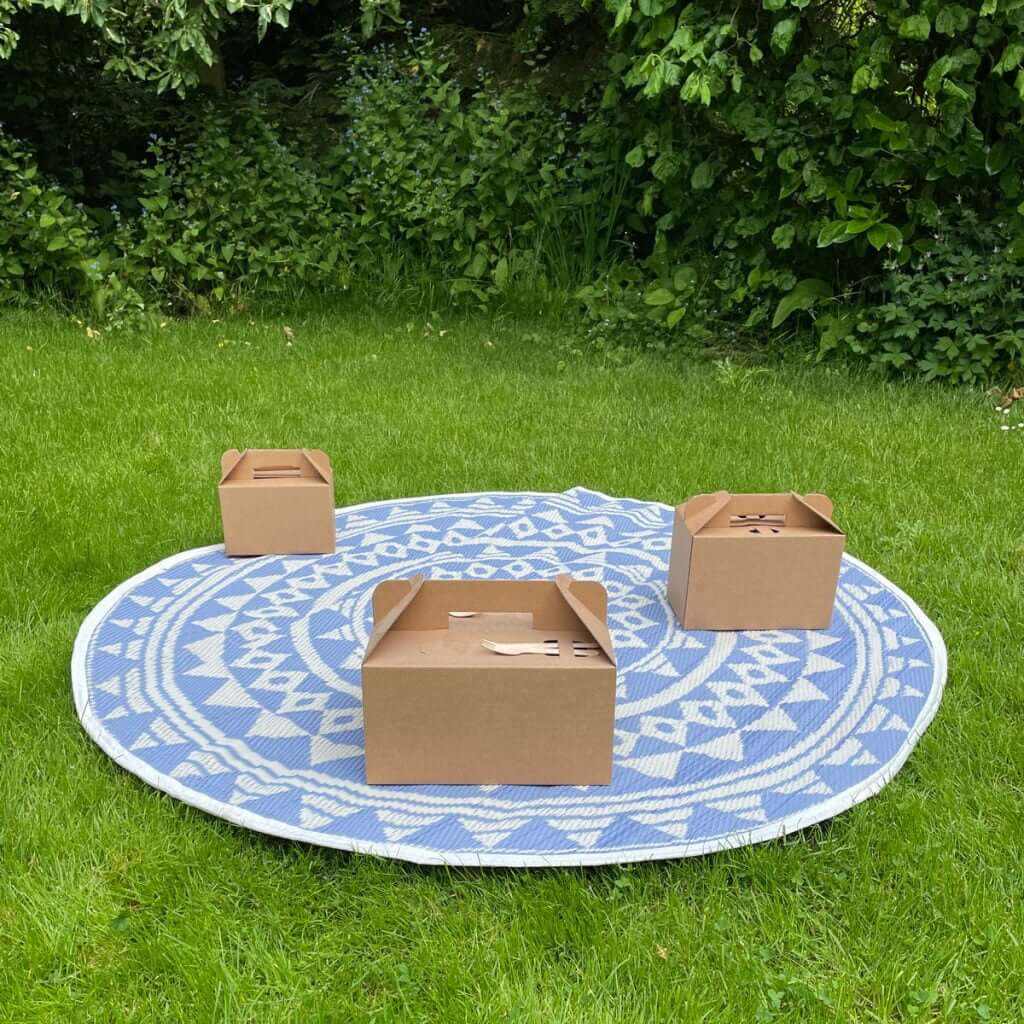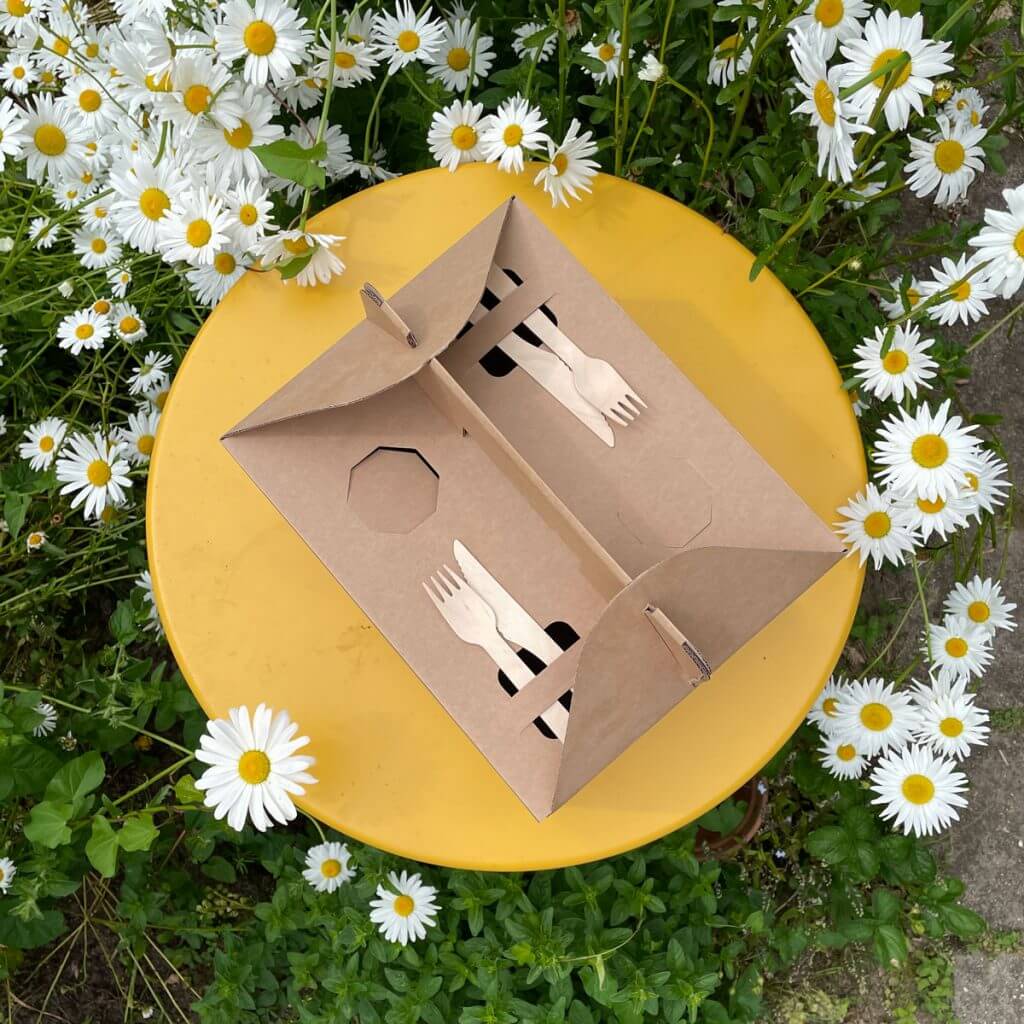 Benefits for your catering company
Easy to personalize
We can print the take away box for you from 1,000 copies. But the box is also easy to personalize with a sticker or stamp. You can think of a completely own design, but also a stamp with the name and logo of your business. In this way, every customer who walks down the street with your take away box immediately advertises your catering company.
Ideal in nice weather
Nice weather is the perfect opportunity to have lunch outside. Your terrace is then so full, while inside the tables are empty. The take away box is the solution. This way you can make extra people happy with your delicious food, while they still enjoy the sun in the park or in their own garden. This also makes the take away box very interesting for businesses with no terrace or a small terrace.
Trendy
Picnic in the park with a glass of wine, romantic dinner at home without spending hours in the kitchen or quickly ordering a meal that offers more than fast food: these are the trends of today. With the take away box you can respond smartly by offering the customer a complete package: food, drinks and cutlery!
Corona proof
Even if you cannot (fully) use your capacity, you can sell your dishes with the take away box. The box is suitable for both delivery and collection. No deposit is required like a picnic basket and the box is easy to assemble and carry. The take away box gives you the opportunity to switch quickly if necessary.
Ideas for your take-away box
We have already listed some ideas for you to inspire you.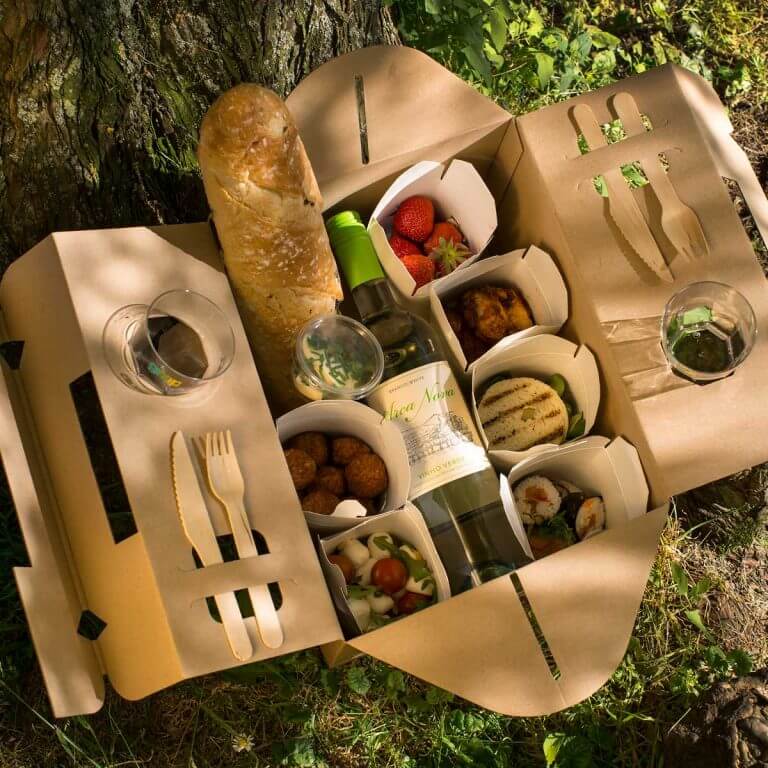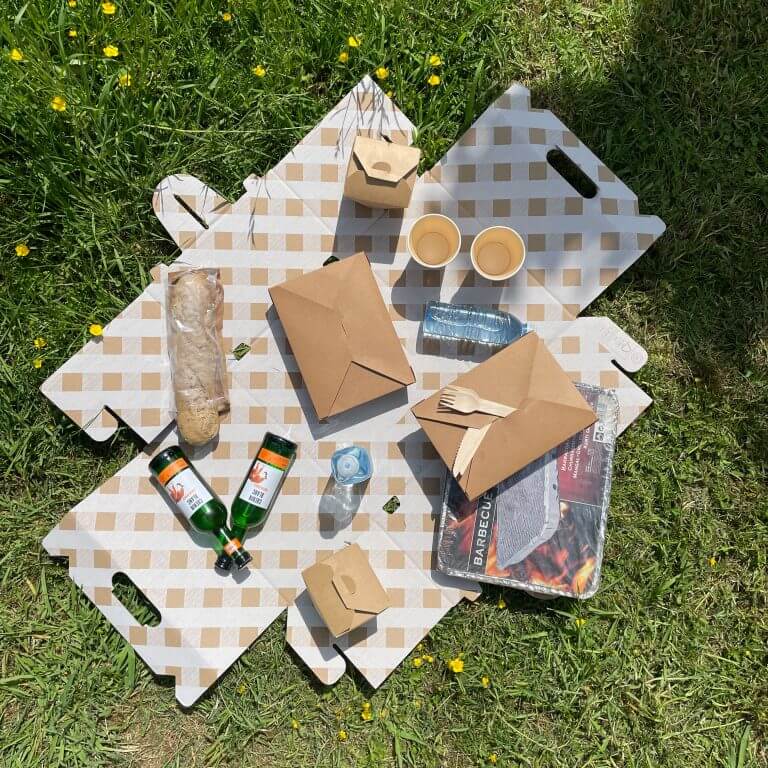 Summer lunch
Isn't your mouth watering with this filled take away box? A delicious baguette with herb butter or tapenade. A salad of mozzarella with tomato and a salad with eggplant. And for the proteins: chicken bones or falafel balls. And that with fresh summer fruit and a delicious bottle of white wine. Do you also want to make your customers happy with such a lunch? Order our take away boxes first.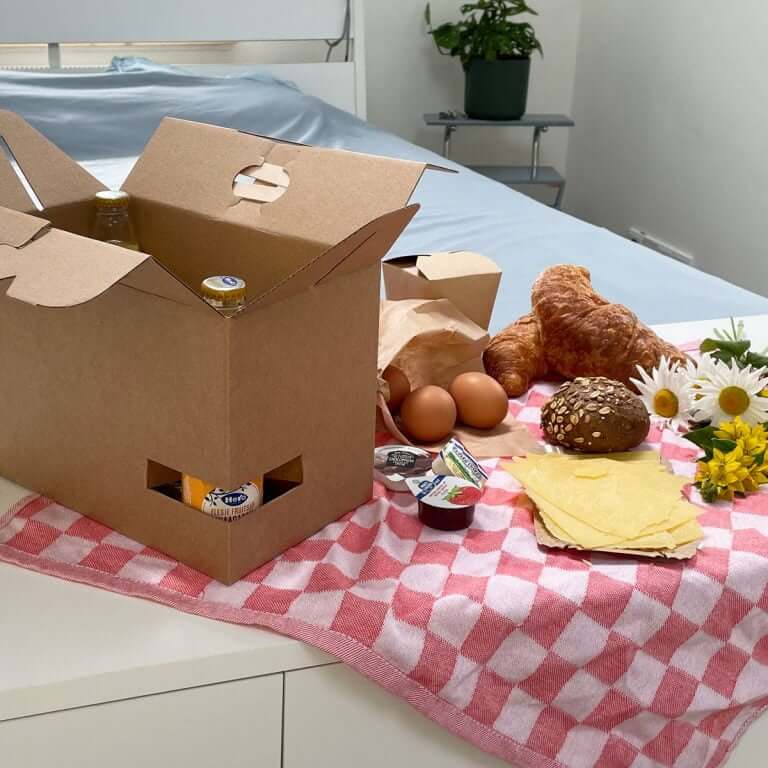 Breakfast for two
With the take away box you can also provide your customers with a generous breakfast. How about orange juice, yoghurt with muesli, a boiled egg and various sandwiches with fillings, such as a croissant with jam and a hard bread roll with cheese? As a hotel or bakery you make the early birds happy with this.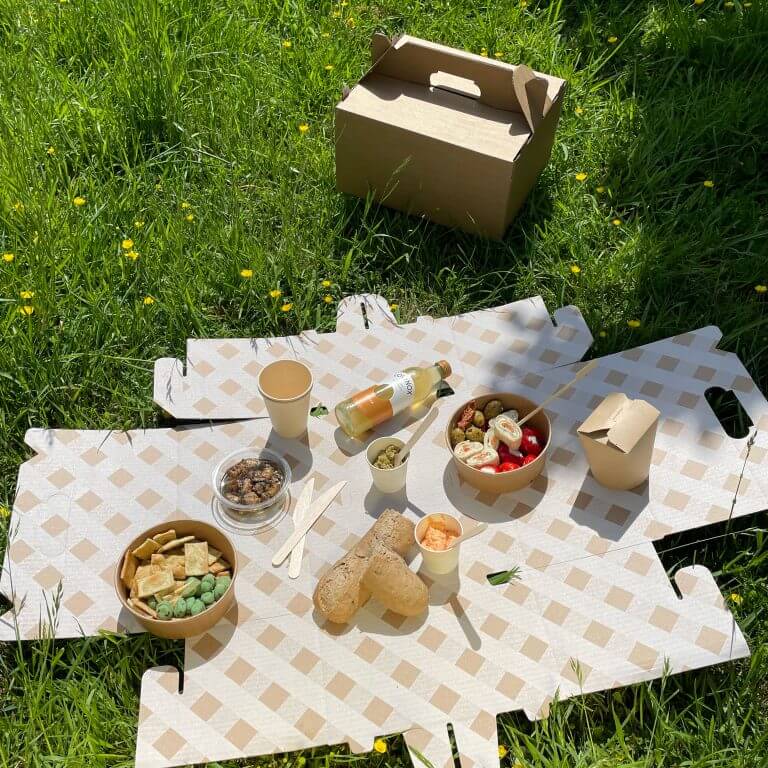 Lunch at events
Are you looking for an efficient way to provide everyone with a good meal at events? The take away box can help you there too! No lines at the buffet, with several prepackaged boxes that are easy to take with you. For example with a meat, fish and vegetarian variant! With a stamp or sticker you can easily indicate what is in which box.
Take-away box: dimensions and details
All take away boxes are equipped with a handle, cutlery holders and functional cup holders. By buying additional trays, you can easily divide the take away box into different compartments. The boxes are made of environmentally friendly FSC cardboard and are easy to recycle.
The take away box is available in different sizes:
Want to buy take-away box? This can be done quickly and easily via our webshop. We are the take away box supplier for you!